Here at Docmosis, we aim to provide the best support and services possible and encourage you to contact our support team with any queries you may have.
Yet, we realize that many of you would prefer to self-serve – searching to find the relevant information online to answer your questions.
This has led us to create our knowledge base where you can find all the available resources for our different products in logical categories on the one searchable site.
You can access our new Resources website (https://resources.docmosis.com) from the resources section of this website, however, it is worth bookmarking so you can easily find it when you need assistance.
There is a search bar, category options and product / version filtering to help you pinpoint the necessary information.
Product / Version Filtering
Near the top-right corner, you can select your product, after which the version will default to the latest release. You can then change version, if needed, to refine all of the content to information that is only applicable to the selected product / version combination.
The product / version filter was an important inclusion on our Resources site given we have years of historical resources needed by customers using previous versions of our three document generation products; Docmosis-Java, Tornado and Cloud.
Searching
Once the site is filtered to a particular product / version – using the search box will return articles from all of the categories relevant to that product / version.
Below is an example of how you would use the search box and product / version filter to find which "fonts" are available for use with the "Cloud – DWS3" service.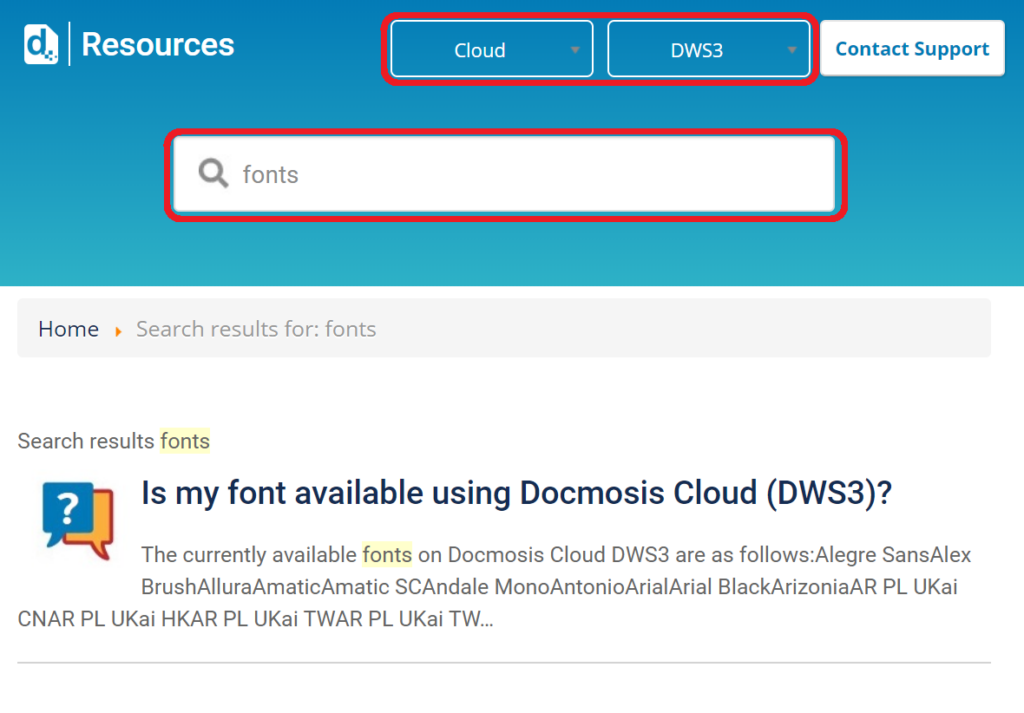 Categories
We have organized our currently available resources into what we think are six natural categories.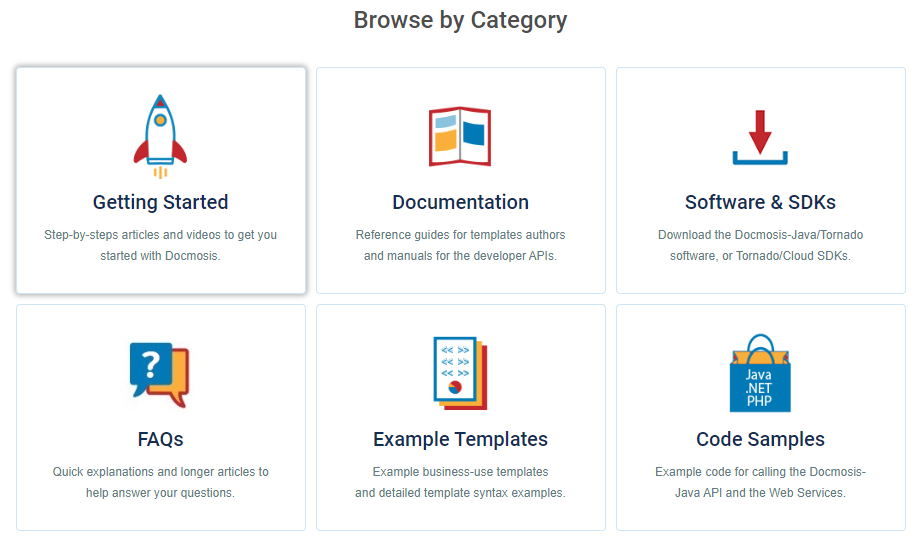 In the coming months, we will be busy building up the resources under several different categories, starting with FAQs based on your questions to sales/support, searches on the site and feedback using the feedback form.
You will notice in our Software & SDKs and Example Templates categories; we have bundled together all the interrelated components into convenient zip files to make it easy for you to download and examine further.

Expect later to see more detailed product demos and tutorials under the Getting Started category, and a greater range of business-use templates under our Example Templates category as we aim to bring you the most comprehensive and well-managed library of resources on our products.
Feedback
Our Resources will be a continuous work in progress with future content driven by valuable input from those who use it – you!
With this in mind, we encourage your feedback. Please let us know what you like, what is missing and what can be improved.
At the end of each resource article, there is an opportunity to provide feedback. Please do!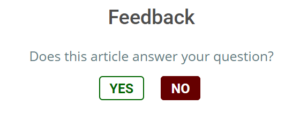 We care about your success in using our Resources website and we hope it will become your first place to go if you need information or a problem arises.