Australian-based software company Docmosis continues to see strong demand for its document generation solution with customers now located in over 30 countries.
Annual usage of the Docmosis-Cloud document generation solution once again doubled with over 20 million pages generated in 2017, compared to almost 10 million pages in the 2016 year. This doubling of usage in 2017 is in-line with the 100% year-on-year growth of the previous 6 years since 2011.
In 2017, conversion of trials to paid subscriptions and new software licence sales for Docmosis increased across all key regions including the United States, UK, Australia and Europe with sales split evenly across the three main products: Docmosis-Java, Tornado and Docmosis-Cloud.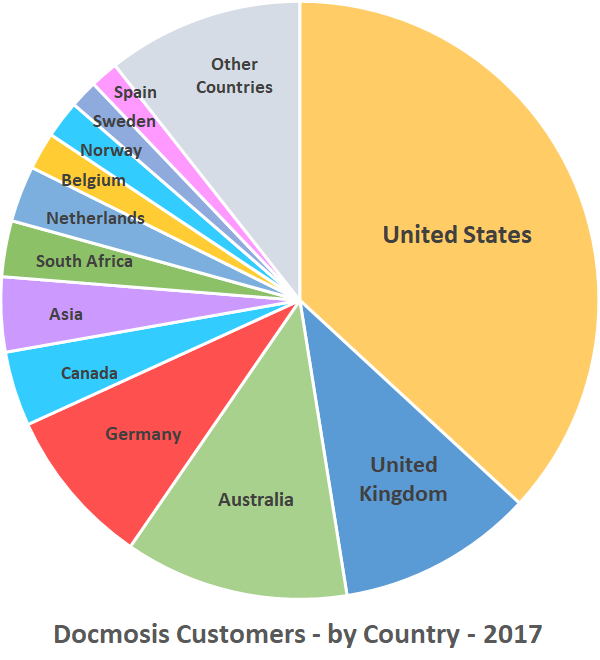 Technical Director Paul Jowett believes the exponential growth in sales across the globe is a testament to the international appeal of the Docmosis solution. "Almost every organisation, no matter where it's located or what industry it's in, faces the same dilemma: how to efficiently get information out of their custom software applications. The challenge has always been that code-based solutions are owned by the tech teams – but it's the non-technical business teams that usually decide the look/feel of the finished documents. Docmosis makes it easier for both teams to control how content appears in the finished documents."
The main premise behind Docmosis was that documents should be able to be generated based on templates. Secondly, it was important that the templates could be created using editors that people already knew, like Microsoft Word or LibreOffice. Lastly, it had to be a solution that was easy to integrate with existing in-house software.
Graham Hughes, Business Director, said: "In the early years we spent a lot of time studying the success of companies like Atlassian and how they marketed software from Australia to an international audience. We've adopted a similar model where people can have an extended trial of the complete product, with great support, to determine if it will meet all of their needs. This means we can let the Docmosis solution speak for itself and we can rely on inbound enquiries rather than a more expensive outbound sales model."
Upgrades are in the pipeline for all three product lines in 2018. The most significant change will be seen by Docmosis-Cloud users with the planned mid-year launch of the 'new-look' Cloud console which will allow for easier editing and testing of document templates.
There is quiet optimism amongst the Docmosis team that this doubling pattern will be repeated again in 2018.